Aluminum foil for battery has many advantages, such as good safety performance, light weight, large battery capacity, good cycle performance, small internal resistance, flexible design and so on. The four major factors, such as the improvement of penetration in the digital field, the increase of applications in the field of new energy vehicles, the growth of demand in high rate fields such as UAVs, and the readiness of energy storage, will become the driving force for the continuous improvement of aluminum foil for battery market share. With the pull of the downstream market, its market share is expected to exceed 50%.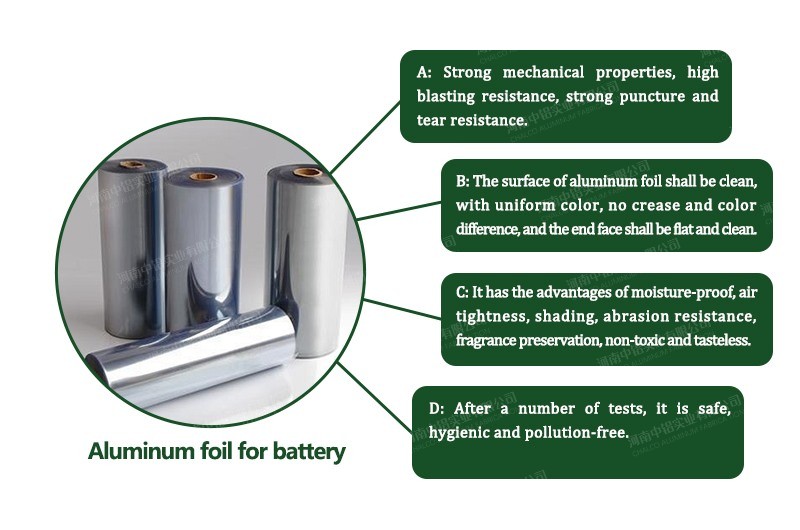 Aluminum foil for battery
Performance characteristics of aluminum foil for battery produced by Chalco aluminum:
A: Strong mechanical properties, high blasting resistance, strong puncture and tear resistance.
B: The surface of aluminum foil shall be clean, with uniform color, no crease and color difference, and the end face shall be flat and clean.
C: It has the advantages of moisture-proof, air tightness, shading, abrasion resistance, fragrance preservation, non-toxic and tasteless.
D: After a number of tests, it is safe, hygienic and pollution-free.
The 8021 and 8079 series aluminum foil products produced by Chalco aluminum adopt special blank materials on the basis of fully considering the thermal conductivity, conductivity and mechanical strength of aluminum foil, so as to ensure the quality of battery soft wrapped foil in a clean dust removal plant environment. Chalco aluminum's 8021 and 8079 series aluminum foils have three states: O state, hx2 and hx4, which can be used for the manufacture of battery flexible foil.
Aluminum foil for battery manufacturer - Chalco aluminum
Chalco aluminum is a large supplier of battery soft wrapped aluminum foil, which can be processed with a thickness of 0.01-300mm and a width of 11-3100mm. Accurate and customized production can be realized. Welcome to consult the manufacturer's price: Email: info@chalcoaluminum.com
You want to know our products, prices and this month's preferential quotation information, welcome to call our service number or leave a message! We will reply as soon as possible.