Aluminum battery box for trailer is the key component of trailer, and its performance has a great impact on the use of trailer.
Trailer battery protection shell generally adopts easy to form metal box, and aluminum alloy is more common. This material has good formability, high corrosion resistance, excellent heat transfer and conductivity.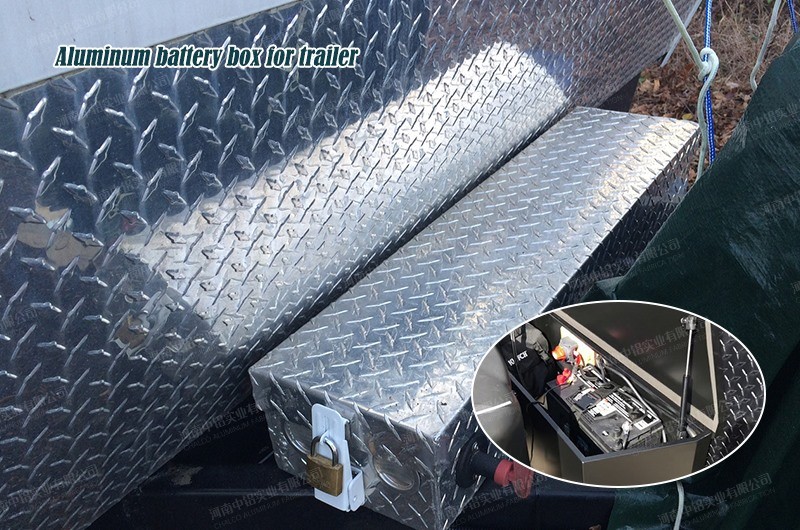 Aluminum battery box for trailer
Aluminum battery box for trailer is an important part of its power supply system. It is mainly used to place the battery pack and needs to be connected with a variety of components. The structure of aluminum battery box for trailer must ensure sufficient strength on the basis of retaining the maximum accommodation space, taking into account the saving of layout space. And meet the changeable operation environment of the trailer. The frame structure is recommended for the design of aluminum battery box, that is, the frame and bottom frame are welded with profiles, and the material thickness is recommended to be > 3mm. Regular cuboids are preferred for the shape of aluminum battery box for trailer, and can be adjusted appropriately according to the layout requirements.
The cover plate of aluminum battery box for trailer is a structure directly connected with various wires and controllers, and the selection of materials is very demanding. The 3003 aluminum alloy battery aluminum shell (except the shell cover) can be stretched at one time. Compared with the stainless steel shell, the box bottom welding process can be omitted.
Application of aluminum battery box:
In addition to trailers, aluminum battery boxes can also be used in various new energy tram industries such as small passenger vehicles, large public transport vehicles, sanitation vehicles, special operation vehicles, etc
Performance characteristics of aluminum battery box:
It has the advantages of light weight, strong impact resistance and high safety factor;
Acid and alkali resistance, chemical stability, corrosion resistance, good sealing, waterproof, moisture-proof, etc;
The special mold can be customized according to customer needs to stretch the box;
The air tightness of the product is relatively better and can better meet the requirements of lightweight design;
The products meet the national indicators and can be purchased at ease
You want to know our products, prices and this month's preferential quotation information, welcome to call our service number or leave a message! We will reply as soon as possible.