1050 transformer aluminum strip is mainly used as conductive material for high and low voltage windings of dry-type transformer. 1050 transformer aluminum strip has certain tensile strength, elongation and conductivity, and many technical indexes such as aluminum strip conductivity, surface quality and burr crimping meet the requirements.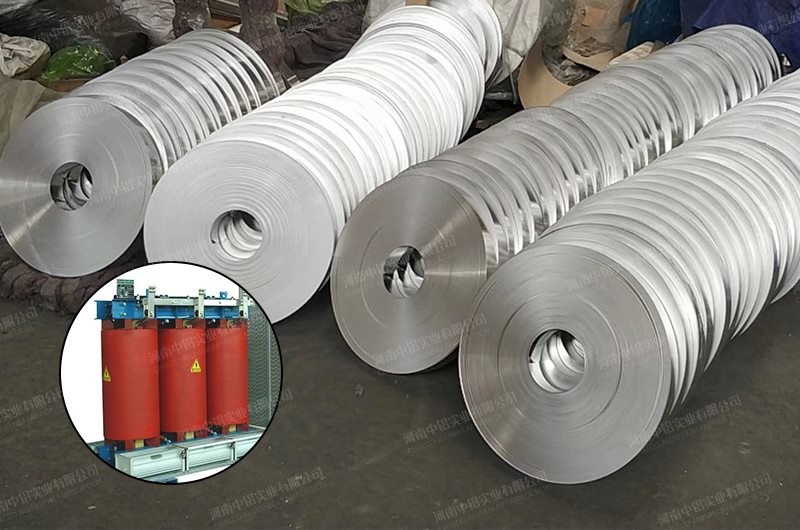 Picture of 1050 transformer aluminum strip
1050 transformer aluminum strip has the characteristics of high conductivity, soft, smooth surface and no burr. It is the key raw material for manufacturing transformer winding. Its production process is relatively simple, its technology is relatively mature, and its price has great advantages over other high-grade alloy aluminum plates.
1050 transformer aluminum strip product specification
Thickness: 0.2mm ~ 3mm
Width: 100mm ~ 1000mm
Inner diameter of strip: 300mm ~ 510mm
Maximum outer diameter of strip: 1000mm
Chemical composition: 1050. Its chemical composition is in accordance with the national standard of GB / t3190 chemical composition of wrought aluminum and aluminum alloys.
Dimensional accuracy control.
Conductivity: the conductivity of the strip at 20 ° C shall comply with 1 / p235 4m/Q mm2。
Surface quality: the surface is smooth without scratches. The edges can be chamfered (rounded corners and round edges) without burrs. The surface of the strip is a rolled surface with good processing and uniform texture, without serious scratch, metal and non-metal pressing objects, oil spots, local deformation and other defects.
The application of 1050 aluminum strip in dry-type transformer has the advantages of small volume, light weight, good insulation performance, flame retardant, no pollution, small partial discharge, moisture resistance, stable and reliable operation, low noise and low maintenance cost. In addition, it is widely used in high-rise buildings, underground facilities, commercial centers, residential areas, hotels and humid coastal areas.
1050 transformer aluminum strip manufacturer
Henan Chalco aluminum is a professional manufacturer of transformer strips. The produced transformer aluminum has different grades, specifications and states. Brands: 1060, 1050, 1050A, 1060, 1070, 1070a, 1350, status: O state. O indicates soft state, and the thickness is between 0.08-3.00. The product quality of aluminum strip is guaranteed. Customers can buy it at ease. Users are welcome to consult.
You want to know our products, prices and this month's preferential quotation information, welcome to call our service number or leave a message! We will reply as soon as possible.
Related products
Get In Touch,Let's talk
Hello! If you are interested in our products and leave your demand, we will give you an accounting quotation in time.
Or you can send your request to our email address: info@chalcoaluminum.com
Send Your Request
0086-371- 55689814 55686476
126#4 Building A,No.89 Science Avenue,National HI-Tech Industry Development Zone,Zhengzhou,Henan
Social touch